OUTFlix 2019 Sponsorship Packages: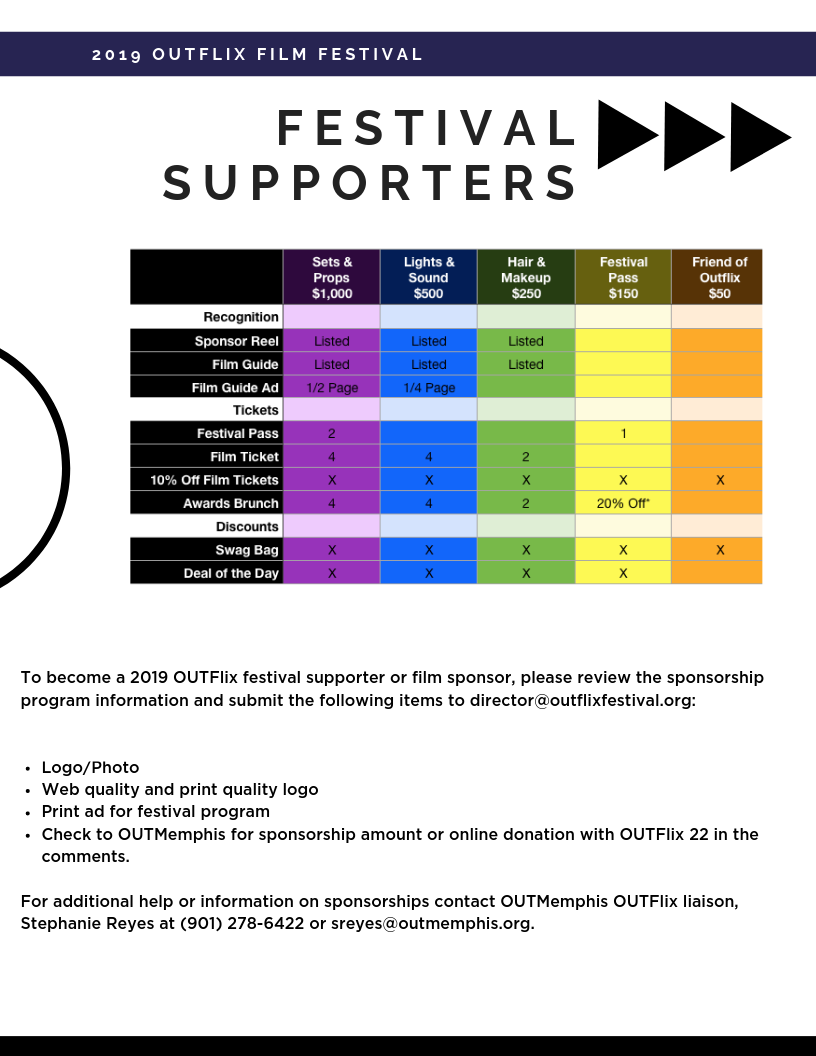 To sponsor OUTFlix Film Festival 2019, click the button below:
Festival Sponsors
Outflix Film Festival expresses its gratitude and appreciation to all of our sponsors who help make our festival great. It is through your partnership that we are able to bring the best in LGBTQ film to the Mid-South.
Why should you consider sponsoring or advertising with the Outflix International LGBTQ Film Festival? A few reasons:
Outflix is one of the city's premiere cultural events.
Every year we show a lineup that includes award-winning domestic and international feature films and documentaries. Many of these films would not normally screen in Memphis; supporting Outflix helps keep this city culturally diverse and vibrant.
Outflix raises money for OUTMemphis.
Outflix is an all-volunteer led fundraising event for OUTMemphis. OUTMemphis is a non-profit organization that serves the LGBTQ community of the Mid-South; it offers counseling referrals, support groups, free after-hours HIV testing, youth services and more. Profits from Outflix go directly to fund OUTMemphis. By sponsoring the Festival, you help keep the doors of the Community Center open to those who need it.
We have a dedicated audience.
Last year we drew an attendance of around 1,700 during the festival. We offer many opportunities to promote your business or organization to our audience, including lobby kiosks, print advertising in the festival guide, and on-screen logos and ads that display before the films begin. Past sponsors of our festival have included the Pumping Station, Planned Parenthood, Medtronic, ServiceMaster, University of Memphis and more.
Go to OUTMemphis' donation page to submit a sponsorship or ad donation. In the comments section, write in "OUTFlix 22". You can also call the OUTMemphis community center at (901) 278-6422 or drop by.  If you would like to to speak with someone about customizing a sponsorship to meet your needs, please email director@outflixfestival.org.
If you want to help fund the film festival, but are not interested in film sponsorship, you can also donate and designate the funds to Outflix 22 in the donation page comments section.